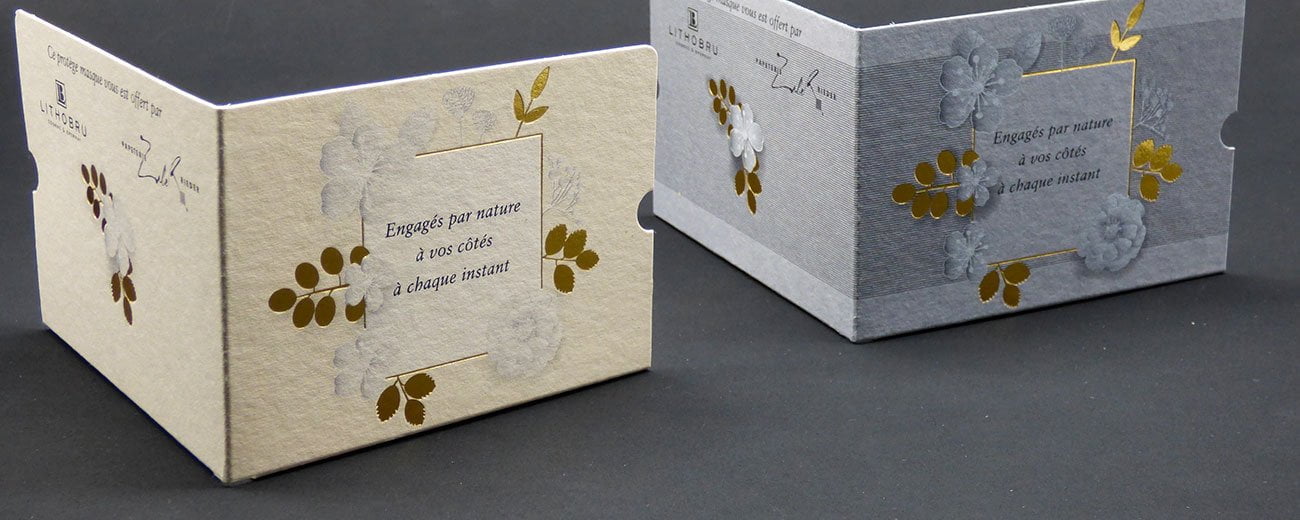 Sustainable innovation: a folding-case mask made with the 'ESPRIT DE NATURE' collection – Papeterie Zuber Rieder
Papeterie Zuber Rieder and Lithobru, which has specialised in upper grade labels, have combined their know-how to make an original communication medium: a mask folding case. These two French companies, both committed to the environment, have decided to develop together an eco-designed product that reflects their values.
A very creative eco-designed folding-case mask
Papeterie Zuber Rieder and Lithobru have chosen to join their forces to create a useful, creative and environmentally friendly promotional product.
This case, made with paper, aims to protect your anti-virus mask from bacteries and is very practical for travelling slips easily into a bag, wallet or even pocket.
The mask case is entirely eco-designed with 100% recycled FSC Mix fibers and contains natural pigments origin France. ESPRIT DE NATURE collection is made by the French independent paper mill, Papeterie Zuber Rieder.
The mask case is available in two natural colours: Ombre shade: clay soil with iron oxide, and Ocre shade:pure clay – kaolinite – coloured with a mineral pigment called goethite.
This product meets the eco-friendly inks specifications, it was printed in the Lithobru workshops based in Cognac (France), with recycled black ink, second-life hot foiling and an anti-bacterial varnish.
This mask case, dedicated to customers and business partners of the two historic houses, exists in a limited edition.
ESPRIT DE NATURE, a 100% recycled range from France
To support Lithobru in its eco-design approach, Papeterie Zuber Rieder has selected its range of eco-friendly papers, among which ESPRIT DE NATURE collection. This line perfectly meets the requirements of brands committed to environment protection.
Made with 100% certified recycled fibers, ESPRIT DE NATURE by Zuber Rieder is a recyclable and ecological range.
Available in different weights, from 80 gsm to 350 gsm, these papers are appreciated for making labels, boxes or premium sustainable communication media.
Their shades are made with natural pigments of French origin.
The mineral pigments of ESPRIT DE NATURE papers are harmless to the environment and humans. They are highly resistant to light, ultraviolet rays and humidity, and guarantee a long-lasting hold.
Combining all these advantages, the ESPRIT DE NATURE collection has become a reference in the premium specialty papers segment.
Sustainable innovation, a shared value
With innovation at the heart of their strategy, the two French companies share the same values by designing products that combine aesthetics, quality and sustainability.
Papeterie Zuber Rieder offers to their customers tailor-made and sustainable papers. The Papeterie Zuber Rieder R&D team and Quality & Environment Department actively take part in the development of new high-performance and ecological products.
Since 1865, Lithobru, has become an expert in label design, has integrated eco-design concepts in their projects for clients in the wine, champagne and spirits sector, and the cosmetics industry as well.
Papeterie Zuber Rieder and Lithobru support eco-design and actively participate in the development of new solutions to limit their impact on the environment.
Technical details:
Collection: ESPRIT DE NATURE by Zuber Rieder
Colours: Ombre and Ocre
Reference: 350 gsm
Weight : 19 x 13.5 cm
Finishing : cut-size, simple creasing
Front cover: black printing (eco-friendly inks) and second-life hot foiling, anti-bacterial varnish
Back cover : black printing (eco-friendly inks), anti-bacterial varnish
Paper made and converted in France
Paper maker: Papeterie Zuber Rieder, Boussières (www.zuberrieder.fr)
Creative design studio and printing: Lithobru, Cognac