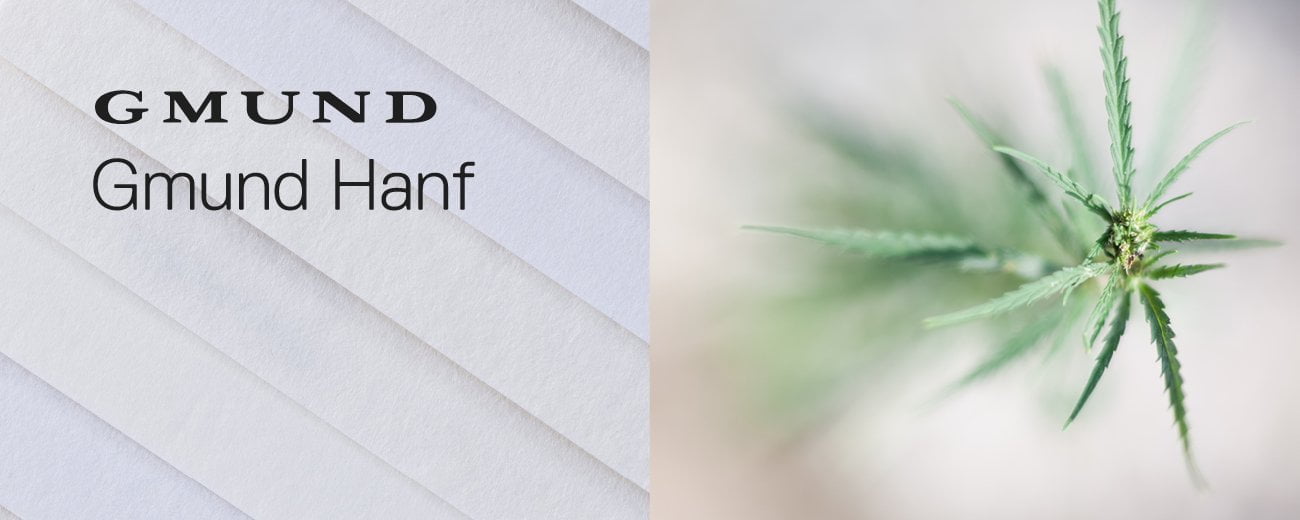 Only Gmund Paper can do it: 100% European hemp becomes a sensationally ecological and creative paper
After having developed a hemp paper containing up to 50% cannabis pulp from European cultivation (supplemented by virgin fiber pulp) for its Bio Cycle collection, Gmund Paper has now succeeded in producing a paper made from 100% cannabis pulp. Hemp's long fibers, which are a challenge for paper production, make this innovative paper both strong in structure and wonderfully soft to the touch. The paper's surface is wild and cloudy – pure nature. The collection also includes Gmund Hanf 50%, which contains recycled paper fibers, and Gmund Hanf 10%, which is made from pure pulp. Gmund Hanf is produced entirely without dyes.
Learn more about Gmund Hanf – Hemp paper.
The plant
Hemp (Cannabis) is a genus in the hemp family. Hemp numbers among the first plants utilized by humankind. The plant is popular as a renewable resource because it is problem-free to cultivate and completely usable. No herbicides are needed because the plants completely shade the ground after only a few days, so no weeds can find light. Hemp is also extremely pest resistant, requires little care and produces more biomass than any other domestic crop. Hemp is extremely versatile in its commercial applications and is appreciated for its high durability, environmental compatibility and low energy footprint.
Hemp paper
Hemp was used for making paper very early in the history of civilization. Until 1883, between 75% and 90% of the paper produced worldwide was made with hemp fibers. This was also the case with the Gutenberg Bible, for example. After the cultivation of hemp was prohibited in many countries, hemp paper disappeared from the scene. In the meantime, the cultivation of commercial hemp has been permitted again in large parts of Europe.
Advantages of hemp for paper production
A field of hemp yields four to five times as much paper as a forest of the same size
Hemp grows four meters per year
Hemp can be harvested three times per year; by comparison, a tree needs about seven years to grow
Hemp does not deplete the soil, so it can be replanted immediately after harvesting
Hemp fibers are long and very stable; compared to wood pulp, hemp pulp has four to five times longer fibers, as well as higher tensile, tear and wet strengths
Hemp fibers are naturally very light in color and accordingly require much less bleaching
Hemp improves the future recycling process and can be repeatedly recycled
Learn more about Gmund Hanf – Hemp paper.
Gmund Hanf at a glance:
Three varieties: Gmund Hanf 100%, Gmund Hanf 50% and Gmund Hanf 10%
Available in grammages of 120 g/m² and 320 g/m²
Suitable for all common printing techniques
Click here to get to the collection.
About Gmund Paper
Since 1829, Gmund Paper has stood for paper culture and the ecological production of unique communication media from natural paper. The pulp of all Gmund papers is FSC certified. Custom-made solutions for sustainable brand presentations are created at the development and production site in Gmund am Tegernsee. Approximately 75% of the papers are exported. A family-owned company, Gmund Paper is currently managed in the fourth generation by Florian Kohler and Herbert Eibach.
CONTACT FOR JOURNALISTS:
For more information about Gmund Paper, please contact Sabine Huber, Public Relations, Tel. +49 8022 7500-73, shuber@gmund.com or visit www.gmund.com