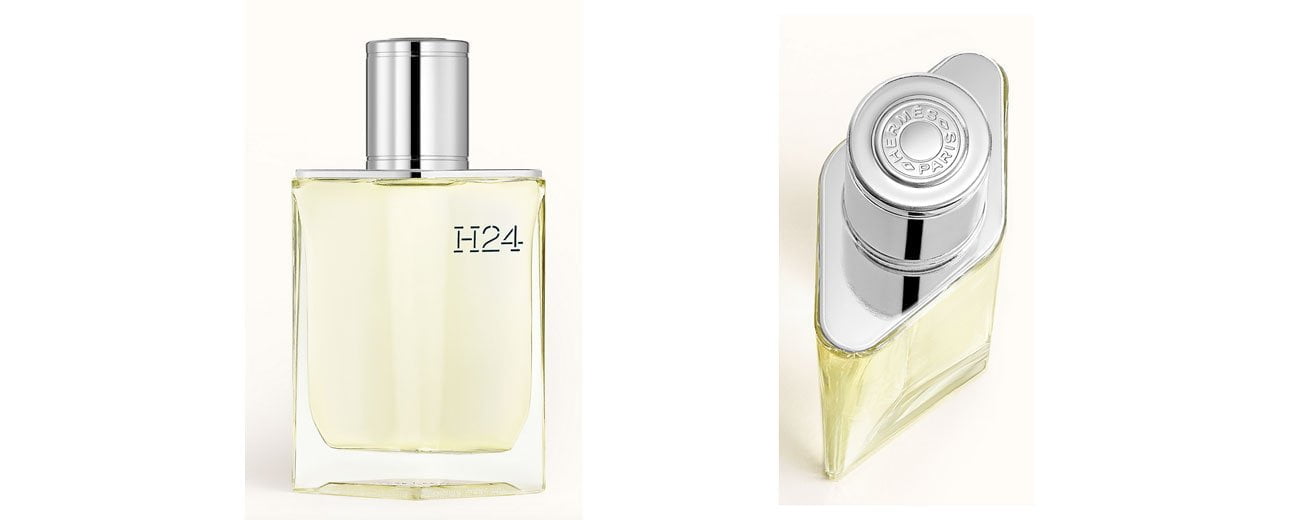 Hermès and g.pivaudran, a relationship based on trust
g.pivaudran, an entirely family-owned French firm since 1948, designs and manufactures bespoke and innovative aluminium objects for the global perfume, cosmetics and spirits markets.
On the strength of its past experience, luxury French fashion house HERMÈS has once more called upon the expertise of g.pivaudran to manufacture two key elements of the new H24 scent for men.
For H24, g.pivaudran has manufactured two parts comprising an assembled aluminium cap with a weighted plastic insert and an aluminium supported collar also assembled with a plastic insert.
"We are extremely proud to have worked alongside HERMÈS in the development of H24, which is a perfect continuation of Voyage d'Hermès and Jour d'Hermès" underlines Marc Pivaudran, Chairman of g.pivaudran.
Aluminium showcasing the cap
The cap is made from deep-set aluminium, with a "sharp glossy" finish and a silver shade, on which we designed a layered plating with inset engraving of the Hermès brand name. There are two hollowed-out borders to the edges, with stripes, showcasing the shape of the cap, whilst a rounded edge on the base softens the outline. Inside the aluminium cap is a polypropylene insert, assembled at high speed on an automated machine, with an internal engraving of the brand name.
This part, made in collaboration with Rovip, has a deep-set engraving of the Hermès brand name. There are also 3 notches which allow for easy attachment inside the collar, which glides contact free flush to the aluminium plate.
The design of this delicate adjustment, in partnership with Hermès teams, showcases the expertise of g.pivaudran in offering parts of extremely high quality for caps/inset attachments on the bottle produced by Pochet du Courval.
Technical work of combining aluminium plating and the cap was required for aesthetic harmonisation of the part, as well as the shiny finish of the plating, which so elegantly shows off the cap.
"The adjustment work on the plastic inset, beneath the aluminium plate, across a very particular section of the cap, allowed us to streamline guidance, so as to guarantee continuity of the base of the aluminium plate with the bottle", explains Hervé Delaigue, Commercial and Development Director at g.pivaudran.
The cap is used across all three perfume bottles: 50 ml, 100 ml and 125 ml (recharge)
About g.pivaudran
• Since 1948, g.pivaudran, an entirely family-owned company, has become one of the leading employers in the Souillac (Lot)
• 200 employees spanning 2 sites (15,000 m2)
• Turnover recorded in 2020 of 19 M€ with 20% for exports
• Some of our most emblematic productions: Bleu and Gabrielle by Chanel, Voyage and Jour d'Hermès, Sauvage, J'Adore l'Or by Dior, J'Adore by Dior, One Million by Paco Rabanne, Céline Haute Parfumerie, Déclaration by Cartier, Emporio Armani by l'Oréal, Happy for Men by Clinique, etc.
• Key customers who have placed their trust in g.pivaudran : Chanel – Hermès – LVMH – Louis Vuitton – Estée Lauder – L'Oréal – Paco Rabanne – Carolina Herrera – Cartier – Burberry YSL
g.pivaudran Press Relations
Nataly JOUBERT I +33 (0)6 09 42 25 94 I nataly.joubert@gmail.com